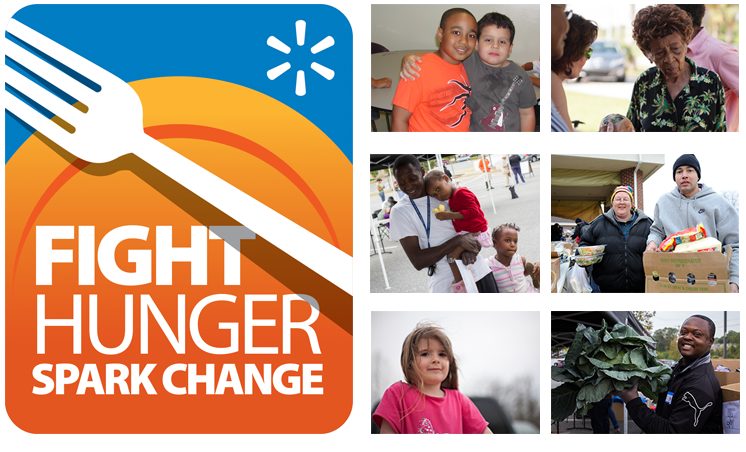 Food Bank of the Rockies, Walmart and Feeding America® are extending their thanks to everyone who helped raise 230 million meals nationwide for families who struggle with food insecurity as part of the 5th annual "Fight Hunger. Spark Change." Campaign this April. Because the tremendous support from our local community, more than 1.2 million meals will be distributed in Food Bank of the Rockies' service area.
"By working with Walmart, its14 supplier partners and Synchrony Bank, we had an amazing opportunity to make progress towards fighting hunger in our community," said Janie Gianotsos, Director of Marketing for Food Bank of the Rockies. "This campaign helped increase awareness about the issue of hunger in America, allowing us to secure more local funds and ultimately provide more food to people in need in the Metro Denver, the Western Slope and Wyoming. Thank you to everyone who helped make a difference! We hope people who contributed know how important their participation was in this year's campaign."
Walmart, Feeding America and Food Bank of the Rockies exceeded the total meal goal for the 2018 anti-hunger campaign and want to extend a huge "thank you" to everyone who participated in the campaign to help raise more money and meals than ever before!
The fifth annual "Fight Hunger. Spark Change." campaign kicked off on April 2 and ended on April 30. Walmart and Feeding America doubled their meal goal to at least 200 million meals. With the help of new partner Nextdoor, customers, suppliers, and Synchrony Bank, the final meal count was more than 230 million meals nationally.
"Because of the generous support of our suppliers, customers and associates, food banks will be able to do even more this year to help families who are struggling," said Kathleen McLaughlin, president of the Walmart Foundation and chief sustainability officer for Walmart. "We are passionate about fighting hunger, and through this campaign, we have taken another significant step to breaking down the barriers that prevent families from enjoying ready access to healthier, nutritious food."
To learn more about the campaign, visit www.walmart.com/fighthunger.